Slayers 18: Vrumugan Still Isn't Dead!
Source: TV
Layers: 0
Sketches: 3
Oversize, 20.5W x 9.5H

No Background

Added 2/21/2005
Updated 6/24/2017

Slayers Episode 18: RETURN! The Red Priest is Back! Oops again! Here's the apparently defunct Vrumugan back in action once more, generating a powerball to cast at the adventurers.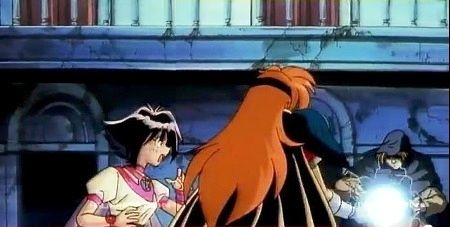 The thumbnails show other sketches in this set, one showing Amelia and Lina reacting in surprise, the other detailing how the powerball should crackle and glow. Interestingly, the animator originally drew Amelia, Lina, and Vrumugan on the same layer. If you look closely, you'll see how this sketch was scissored apart and taped onto two separate sheets.


Click to open in new window