Slayers 18: Vrumugun Must DIE!
Source: TV
Layers: 0
Sketches: 1
Oversize, 16W x 12.5H

No Background

Added 2/21/2005
Updated 6/24/2017

Slayers Episode 18: RETURN! The Red Priest is Back! Cut 235. Oops! Ghostly hands grab Lina from behind: it's Vrumugan, rematerialized to attack again. (Actually, Vrumugan is a copy entity that is created at the convenience of Eris, the adventurers' antagonist). Here Lina disposes of him a second time, her magic blasting through his body, while Gourry, Zangulus, and Amelia watch from the background.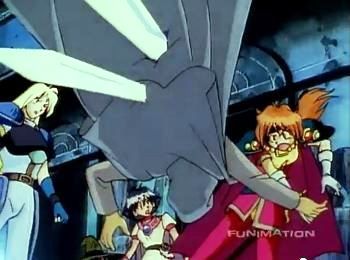 This is the genga version, with the original layout in the first thumb. Notice that while the general dimensions of the scene are the same in the two, all the characters' positions and expressions have been changed. In the genga, the magic piercing through Vrumugun's back takes the form of two huge crystals, giving Lina's attack body and force. In the layout, the attack takes the form of shafts of light. That sketch came heavily scored, as the background artist used a blunt edge to mark the canvas through it, a common first stage in making sure the backing would fit the character size exactly.

One of the animation directors clearly wasn't happy with Lina's posture or the proposed camera work. Click the fingernail for a photocopy of a rough sketch s/he did in response, which the studio temporarily taped to the layout and photocopied. Lina's body position is much more dynamic here, and the pan starts from a tilted close-up of her magic bursting through Vrumugan's back, then skews back to show the rest, a much more energetic (and tricky) camera technique.


Click to open in new window