Chibi-Sakura Abducts Chibi-Meilin
Source: TV
Layers: 1
Sketches: 1
Cel Number: C8
Standard size

Key Cel
No Background

Added 1/20/2005
Updated 4/15/2017

Episode: 35 (Sakura's Wonderful Christmas). In the shocking final episode of "The Adventures of the Mini-Cardcaptors," Chibi-Sakura, corrupted by the powers of darkness, ambushes Chibi-Meilin at the water fountain, ties her up, abducts her, and carries her away to the Lair of Clowness.

There she ties her up and tickles her until Chibi-Syaoran gives her all the Cards he has captured, allowing Chibi-Sakura to achieve world domination. Sequence number: C8.

Chibi CCS cels are vanishingly rare, so nabbing this small but delightfully evil cel off eBay warmed the dark cockles of my own wicked heart.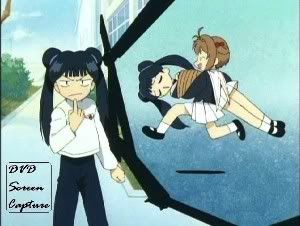 Kathpatty's Cels now has the C7 from this sequence.


Click to open in new window