Karin Preparing to Transform in the Bushes
Source: TV
Layers: 2
Sketches: 2
Cel Number: A2
Standard size

Key Cel
Book Cel
Original Matching Background

Added 10/5/2007
Updated 2/28/2023

Episode 2: Ai to seishuun no Shoot (The "shoot" of love and youth), cut 30. Karin sees Kouichi, the classmate whom she secretly adores, being pestered by a gang of bullies, and so she uses a handy clump of bushes to transform into her Buurin self. Sequence number: A-2 (Karin), unnumbered book layer (leaves and bushes in front).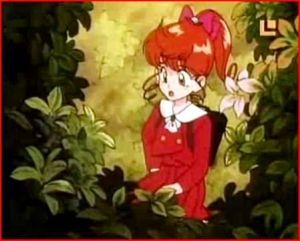 As often in this show, the bushes are surprisingly pretty, especially the unexpected pink leaves to Karin's left and the pretty blue shadows below and to the left. This could have been a generic image, but it ends up being a visual treat. See the thumbnails for the artboards that came with this set (the douga, not imaged, is a partial, showing just her arm as she gets out her Tonpact).


Click to open in new window