Featured Cel: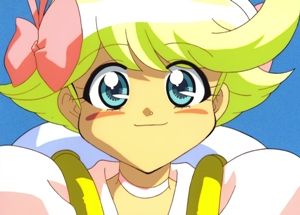 Tenshi ni Narumon (Ep. 12): Noelle ready to take wing (uploaded 1/5/2009).

Featured Sketch: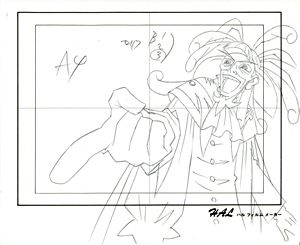 Princess Tutu (Akt. 25): Drosselmeyer challenges Mytho (Won 1/11/2009).
__________________________________________

Welcome to my collection of animation art! As you'll see, I take a "museum" approach, annotating the items I collect, putting them in context whenever possible, and providing background information on the series and the creators.

This site is an opportunity to learn more about the artistic process behind animation. So in addition to beautiful cels, you'll see some of the production materials--sketches, backgrounds, settei, storyboards, "test" cels--that let us look behind the scenes at how animation studios produced these series.

If you're not sure where to start, begin with one of the "Quick Gallery Tours." Now divided into three categories -- Golden Age, Classic Cel-Based, and Contemporary CGI-Based -- they give a picture of the whole collection at a glance, and then review each series I collect, one page per series, with a lot of links to the individual galleries as you go.

And if you're a real lover of animation art, then go to "Private Area" and type in the super-secret password "seemorestuff" to gain access to lots of extras that I've hidden to keep the gallery easy to explore.
______________________________________________

The banner adapts a rough sketch from Gegege no Kitaro, Fifth Series, Ep. 92, showing Wave Lad asking Father Trout for help. The background is a detail from another sketch (unidentified episode) from the same series.
______________________________________________

New Arrivals: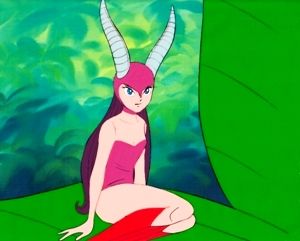 Microids: Maimai the evil moth cyborg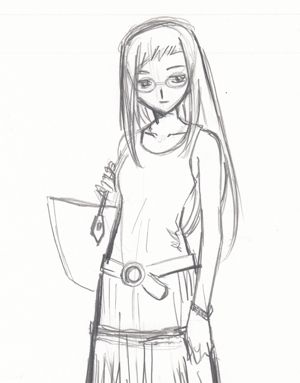 Asatte no Houkou: Adult Shouko model sheet
(rough draft by Ikuko Itou).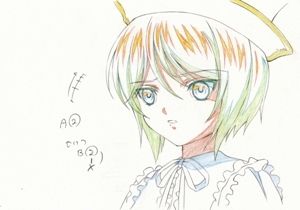 Rozen Maiden: Souseiseki apologizes to the clockmaker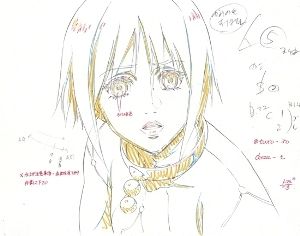 Wolf's Rain: Cheza senses trouble
________________________________________

News & Updates


11/30/2018
Sensei's Upgrade 2018.04 (Happy Holidays) includes new items in:
Andersen Monogatari (Mushi, 1971)
Microid S (Toei, 1973)
Wata no Kuni Hoshi (Mushi, 1984)
Magic Knight Rayearth: 4 Others (Studio CLAMP, 1993-95)
Tenshi ni Narumon 02: Noelle and Yuusuke (Pierrot, 1999)
Tenshi ni Narumon: Step 19 (The Bu Bu Bloomers Episode)
Tenshi ni Narumon: Step 25: (Because I Want Everything...)
NEW! Asatte no Houkou 7: Extras
Kamikaze Kaitou Jeanne Ep 34: Confession of Separation! (Toei, 1999-2000)
NieA_7 (Triangle Staff, 1999)
Ouran High School Host Club (BONES, 2006)
Rozen Maiden 2: Everyone Else (Nomad, 2004)
Rozen Maiden Zuruckspulen: Eps. 1-9 (Studio Deen, 2013)
Wolf's Rain (BONES, 2003)

8/15/2018
Sensei's Upgrade 2018.03 (Lammastide) includes new items in:
NEW! Grimm's Fairy Tales: The Golden Bird: Settei (Madhouse, 1984)
Wonderful Adventures of Nils (Pierrot, 1980-81)
Condition Green OVA 3: Cels: Baaaaaaad Girl! (Hero Communication, 1991)
Condition Green OVA 3: Cels : The Rest
Hyper Police Sketches: Natsuki (Pierrot, 199)
Magic Knight Rayearth: 1 Hikaru (Studio CLAMP, 1993-95)
Tenshi ni Narumon 03: Natsumi (Pierrot, 1999)
Tenshi ni Narumon: Step 25: (Because I Want Everything...)
Tenshi ni Narumon: Step 26 (What is Truly Important)
Asatte no Houkou 3: Episode 7 (J.C.Staff, 2006)
NEW! Gegege no Kitaro 5: Others (Toei, 2007-09)
Princess Tutu (Hal Film Maker, 2002-03)

6/23/2018
Sensei's Upgrade 2018.02 (Solstice) includes new items in:
Wonderful Adventures of Nils (Pierrot, 1980-81)
Hyper Police Sketches: The Rest (Pierrot, 1997)
Tenshi ni Narumon 02: Noelle and Yuusuke (Pierrot, 1999)
Tenshi ni Narumon 05: Miruru and Gabriel
Tenshi ni Narumon 06: Family and Fiends
Tenshi ni Narumon: Step 19 (The Bu Bu Bloomers Episode)
Tenshi ni Narumon: Step 25: (Because I Want Everything...)
Asatte no Houkou 1: Episodes 1-2 (J. C. Staff, 2006)
Asatte no Houkou 2: Episodes 4-6
Asatte no Houkou 5: Episode 10
Asatte no Houkou 6: Episodes 11-12
NieA_7 (Triangle Staff, 2000)

2/28/2018
Sensei's Upgrade 2018.01 (Lent is here) includes new items in:
Gegege no Kitaro (Toei 1985-88)
Unico (Sanrio, 1981)
Wata no Kuni Hoshi (Mushi, 1984 )
Wonderful Adventures of Nils (Pierrot, 1980-81)
Cardcaptor Sakura 04: Sakura's Costumes (Madhouse, 1998-2000)
Cardcaptor Sakura 11: The Rest of the Cast
Inuyasha 1-99 (Sunrise, 2000-04)
Tenshi ni Narumon 02: Noelle and Yuusuke (Pierrot, 1999)
Angelic Layer (Bones, 2001)
Asatte no Houkou 2: Episodes 4-6 (J. C. Staff, 2006)
Haibane Renmei (Studio Radix, 2002)
Kamikaze Kaitou Jeanne Ep 16: A First Kiss Illuminated by Moonlight (Toei, 1999-2000)
Kamikaze Kaitou Jeanne Ep 34: Confession of Separation!
NieA_7 (Triangle Staff, 2000)